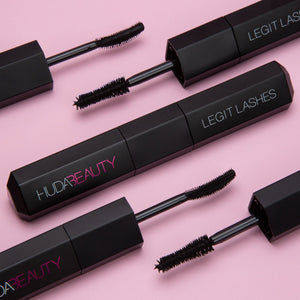 2 BRUSHES, 2 FORMULAS, 1 LEGIT MASCARA
A long-lasting, matte black, dual-ended mascara that delivers major volume, dramatic curl and insane length without weighing down your lashes, lasting 12 hours.
Featuring two full size mascaras in one dual-ended pack, these ultra-black formulas are clinically proven to volumize, lengthen, lift, and curl lashes. Legit Lashes Mascara glides smoothly onto lashes for an even, buildable, and clump-free application.
The Mascara features two custom brushes and formulas designed to give you THE perfect lashes. Whether you use both sides together or separate, this mascara allows you to customize your look according to your mood!
Volume: This formula features short volumizing fibers that fit between the lashes to create a fuller, voluminous lash effect. Their featheriness prevents the lash from getting weighed down and stiff.
Curl & Length: The formula includes gripping waxes and 5mm lengthening fibers for an immediate elongated effect. The innovative custom brush lengthens even your tiniest lashes to create a wispy, fluttery effect.
LEGIT Lashes Double ended mascara
It makes the lashes so beautiful but It does not last very long because of the hot weather. It is ideal to wear for a short period of time rather than a full day.